U.S. recorded music sales grew 11.4 percent from $6.9 billion in 2015 to $7.7 billion in 2016. The primary driver of that growth was a doubling of paid streaming music subscriptions which helped the American music business experience its biggest gain since 1998. Back then, the industry enjoyed revenue of $13.7 billion.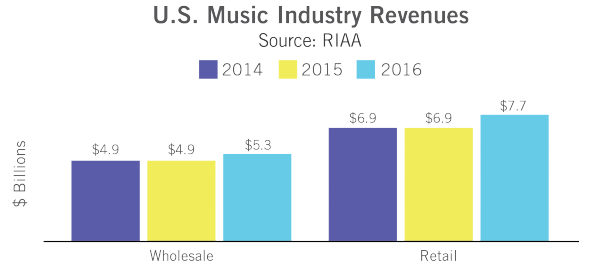 The revenues from streaming platforms were up 68.5 percent to $3.93 billion, up from $2.33 billion in 2015. Streaming grew from just 9% of the market in 2011 to 51% of total industry revenues in 2016. In fact, streaming grew so much in 2016, that it now accounts for more revenue than downloads, CDs and vinyl combined.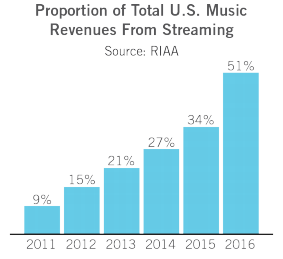 On both a dollar and percentage basis, no format category grew as much as paid subscriptions. In 2016, revenues from paid subscription services in the United States more than doubled, up 114% to $2.5 billion. Paid subscriptions alone accounted for about 1/3 of total U.S. recorded music industry revenue in 2016. Growth was driven by very strong new user adoption, as the number of paid subscriptions to full on-demand services grew 109% to average 22.6 million for the year, compared with 10.8 million in 2015.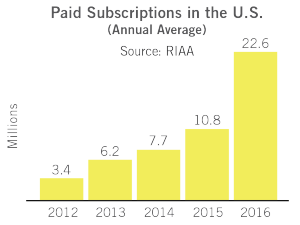 On the sales side, digital downloads accounted for $1.84 billion while physical sales totaled $1.67 billion. In revenue, the decline was measured at 24.1% to $906.8 million, down from $1.195 billion.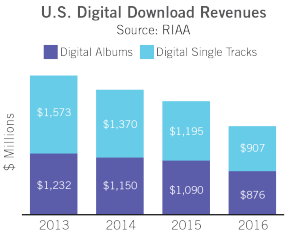 Digital album sales declined 21.3 percent to 86 million units from 109.3 million units in 2015; they generated nearly $876 million, a decline of 19.6 percent from $1.09 billion in 2015.

Physical sales remain important to the industry, accounting for 21.8 percent of revenue, though they generated 15.7 percent less revenue in 2016. And since unit sales were only down by 15.7 percent, average prices are falling as well.



Source:
2016 RIAA Shipment and Revenue Statistics
http://www.billboard.com